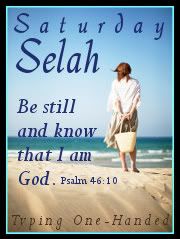 The times we live in seem precarious at best, downright terrifying at worst. Our country's leadership seems intent on securing their own political power regardless of the damage their policies are doing to the country. Our children and grandchildren will be paying the bill for these power plays as money is continually being siphoned to bail-out or by-pass the natural selection of companies that are nearing bankruptcy (no, I'm not an evolutionist--I'm just hijacking a popular Darwinian idea as it applies to capitalism.)
Some of the most frightening changes include abortion regulation making it freer for women to "choose" to end pregnancy at any stage and using any method, no matter how barbaric. The changes that lifted the ban on new embryonic stem cell lines for research seem destined to make destroying life at its most fragile stage a money-making endeavor, even in the face of facts that adult human stem cells produce successful results without taking life. And the rights of doctors who conscientiously object personally performing abortions are in danger of being stripped away...on the narrow chance that one would also deny a woman the right to birth control pills.
For more information read:
Why Fight FOCA Now?

Obama Funding Embryonic Stem Cell Research Ignores Science
,
No choice: Doctors forced to perform abortions or else?
With all this swirling around believers, it is easy to become discouraged and want to withdraw from participating in public life. After all, we don't want ourselves, our families, or our churches to become targets for the extreme liberal left, do we? It is so very important we resist the urge to retreat into our safe, comfortable lives.
If we don't stand up for what God clearly tells us is right, we are as responsible as those who laugh in His face and proceed to do wrong.
Seek justice, encourage the oppressed. Defend the cause of the fatherless, plead the case of the widow. ~Isaiah 1:17

As scary as it seems to put ourselves in the line of fire, God will be there for us. We can rely on Him, even if we ourselves come under attack. He promises to take care of us.
Those who trust in the L

ORD

are like Mount Zion, which cannot be shaken but endures forever.

As the mountains surround Jerusalem, so the Lord surrounds His people both now and forevermore.

The scepter of the wicked will not remain over the land allotted to the righteous, for then the righteous might use their hands to do evil.

Do good, O L

ORD

, to those who are good, to those who are upright in heart.

But those who turn to crooked ways the L

ORD

will banish with the evildoers.

Peace be upon Israel. ~Psalm 125

Even though we were not born in Israel...we are His people, adopted into His chosen family, therefore we can claim Psalm 125 because it was written for us!
For those God foreknew He also predestined to be conformed to the likeness of His Son, that He might be the firstborn among many brothers. ~Romans 8:29

Do not let your hearts be troubled. Trust in God; trust also in Me. In my Father's house are many rooms; if it were not so, I would have told you. am going there to prepare a place for you. And if I go and prepare a place for you, I will come back and take you to be with me that you also may be where I am. You know the way to the place where I am going. ~John 141-4

So...when we stand up to protect the innocent, God is standing there with us. We can trust in Him and rest in His sheltering arms. Our strong God will take care of us regardless of the circumstances.
In the late 1800's Mrs. Louisa M.R. Stead watched as her husband died while trying to save a drowning boy. She wrote these words as a response to her struggle with the "why?" questions she asked God.

'Tis so sweet to trust in Jesus,
Just to take Him at His word,
Just to rest upon His promise,
Just to know, "Thus saith the Lord."

I'm so glad I learned to trust Thee,
Precious Jesus, Savior, Friend;
And I know that Thou are with me,
Wilt be with me to the end.

Jesus, Jesus, how I trust Him!
How I've proved Him o'er and o'er!
Jesus, Jesus, precious Jesus!
O for grace to trust Him more!

Though she had to watch her husband give his life to try to protect the innocent, Mrs. Stead was able to cling to God and praise Him in the midst of the sorrow. Do you believe He will be there for us as we step onto the battlefield to protect the innocent of our times?
Just a note of fact: 50 million children have been lost in the abortion holocaust since abortion became legal. A whole generation...who knows what God would have done with those precious lives had they been spared.
If you need to be awakened from your apathy concerning the innocent unborn being
destroyed, watch
The Silent Scream
. Please, please, please be cautious about who is in the room with you when you watch. It is devastating and graphic. Children should not watch it!!