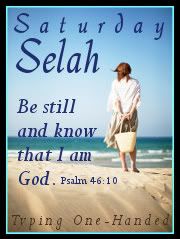 RECORD

- Go outside, whatever the weather. Bundle up if it's cold, take an umbrella for rain, or put on shorts for a sunny summer day. Look around you and take specific notice of five things of beauty created by God for you to enjoy. You may see mist over a pond, red tomatoes on a green vine, sparkles of white snow in the sun, your child's face. Whatever. Just take the time to notice. Beauty is there. Let it refresh and restore you.



RESPOND

- While still outside, sing a song of praise to God out loud!



REVIVE

- Saturday: Psalm 48; Sunday: Psalm 27



~from Weekending, pg. 337, Women's Devotional Bible, Zondervan
We are getting a sweet taste of spring this weekend. Today may get to 80 degrees. The sun is shining and the air is warm. What a lovely blessing! But... what did I miss during the dreary winter days because I was so focused on just getting through the gray days so I could enjoy the bright ones? Did I forget that
each
day
, each moment, is a gift?
Psalm 48: Within Your temple

[I am the temple of the Holy Spirit! 1 Corinthians 6:19]

, O God, we meditate on Your unfailing love.

Like Your name, O God, Your praise reaches to the ends of the earth; Your right hand is filled with righteousness.

Mount Zion rejoices, the villages of Judah are glad because of Your judgments.

Walk about Zion, go around her, count her towers, consider well her ramparts, view her citadels, that you may tell of them to the next generation.

For this God is our God for ever and ever; He will be our guide even to the end. ~9-14

[NIV]
No matter the days, whether dark or light, cold or warm, when have I been without the glory of His love? Why then did I complain?
Psalm 27: The Lord is my light and my salvation - whom shall I fear? The Lord is the stronghold my life - of whom shall I be afraid? ~2

One thing I ask of the Lord, this is what I seek: that I may dwell in the house of the Lord all the days of my life, to gaze upon the beauty of the Lord and to seek Him in His temple.

For in the day of trouble He will keep me safe in His dwelling; He will hide me in the shelter of His tabernacle and set me high upon a rock.

Then my head will be exalted above the enemies who surround me; at His tabernacle will I sacrifice with shouts of joy; I will sing and make music to the Lord.

Hear my voice when I call, O Lord; be merciful to me and answer me.

My heart says of You, "Seek His face!" Your face, Lord, I will seek. ~4-8

I am still confident of this: I will see the goodness of the Lord in the land of the living.

Wait for the Lord; be strong and take heart and wait for the Lord. ~13-14

[NIV]



When the clouds roll in and the darkness covers the bright sunlight, help me remember Father, that You are with me. The weather forecast just proves You have created the seasons and everything is ordered according to Your will. Help me walk close enough to You that I am in stride with Your amazing design. Help me appreciate every detail of it. Amen.