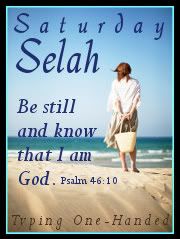 Friendship gives license to show up at the door of need without asking, "When would you like me to come?" or "What would you like me to do?" Nor does friendship call out, "Just let me know if you need anything."

Practiced friendship whispers, "I'll be there" and promptly steps through the door with sensitivity, respect, and understanding.

But what about honoring the right to invite? Those who wait for parchment invitations wait long, for need rarely throws a party--rarely even has a voice.

Yet need has its own needs. It needs protection from strangers tromping in with work boots and good intentions. And it needs relief from acquaintances wearing the spiked heels of advice and pat answers.

Need waits with longing for the familiar entrance of dear ones who pad barefoot through the soul on ordinary days. ~Susan L. Lenzkes

I had a hard time with today's Selah. A dear one of mine is suffering and I am hurting along with her. Not knowing how to help has made me feel frustration at my own helplessness. Susan Lenzkes' words were just what I needed to read. I know now that the most important part of my role in the situation is as arms and hands and ears, not mouth and tools. I must hug and hold and listen, not advise and fix.
Thank you, Lord for giving me Your wisdom through the writing of another woman of faith.
A friend loves at all times. ~Proverbs 17:17