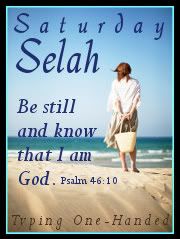 [S]he who dwells in the shelter of the Most High will rest in the shadow of the Almighty. ~Psalm 91:1

[NIV]



The sixteen verses of Psalm 91 are an amazing affirmation of the true relationship a believer can have with the Lord...when she dwells in Him.
Dwell: 1. to live or stay as a permanent resident; reside.
Our relationship with God should inspire confidence because we can be assured we belong.
I will say of the L

ORD

, "He is my refuge and my fortress, my God, in whom I trust." ~Psalm 91:2

[NIV]
Dwell: 2. to live or continue in a given condition or state.
We can choose to live in the secure knowledge that God is our Protector, Jesus is our Advocate, the Holy Spirit is our Comforter.
If you make the Most High your dwelling - even the L

ORD

, who is my refuge - then no harm will befall you, no disaster will come near your tent. For He will command His angels concerning you to guard you in all your ways; they will lift you up in their hands, so that you will not strike your foot against a stone. ~Psalm 91:9-12

[NIV]
Dwell: 3. to linger over, emphasize, or ponder in thought, speech, or writing.
Our desire to be with the Lord is a natural response to our Creator - He put it there. We can search for other things to fill the longing to be in oneness with God, but it is only He who can satisfy us. When we acknowledge that and realize that the longing is just the first hints of the love we have for Him, we can then seek Him with our whole being.
"Because [s]he loves me," says the LORD, "I will rescue h[er]; I will protect h[er], for [s]he acknowledges my name. [S]he will call upon me, and I will answer h[er]; I will be with h[er] in trouble, I will deliver h[er] and honor h[er]. With long life will I satisfy h[er] and show h[er] my salvation." ~Psalm 91:14-16

[NIV]
Synonyms of Dwell:
Abide: to remain, continue, stay.
Linger: to remain or stay on in a place longer than is usual or expected, as if from reluctance to leave.
Reside: 1. to dwell permanently or for a considerable time; 2. to abide, lie, or be present habitually; exist or be inherent; 3. to rest or be vested, as powers, rights, etc.
I challenge you, Beloved of God, to read Psalm 91 every day for 30 days. Let is soak into your soul...abide, linger, reside...dwell on His words of promise to you. Along the way, if you feel led to, please share the insights and blessings the Lord gives you from this beautiful Psalm.