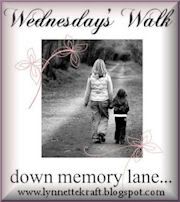 I love the idea of spending some time appreciating from whence I've come and how it has influenced where I am right now. Lynnette is one of my favorite bloggers. Please join her at Dancing Barefoot on Weathered Ground to read more and to participate in Wednesday's Walk.
I
am up to my ears with the work of redesigning and moving Typing One-Handed to a new, multi-functional spot. My new magazine style will allow me to feature favorite blogs with RSS feed and links straight to the blogs. I am excited about it, but it is a learning-as-I-go project.
Thinking back on it, I realize that everything I do seems to come with on-the-job training. Becoming a wife (and discovering I wasn't the center of the universe), then a mother (is there any other job that so takes a person by surprise???), a college student (with a husband & three small children at home)...finally venturing into the work force with a computer tech degree. Many part-time and contract jobs because of the degree...finally deciding I like working from home best.

I've come full circle. I was writing from the time I learned how to properly use a pencil. Work now involves helping other women shine through their own writing via Take Root and Write...plus my own endeavors to write and publish my first novel. Now I use a combination of keyboard and pencil (yep, all my manuscripts start out in spiral notebooks written with my fave mechanical pencil).
What a lovely walk down my lane full of memories! Hey, Orchid...did you notice your favorite outfit???