My inspiration for this week's Selah is a devotion written by Karen Burton Mains. I also submitted much of it to our February church newsletter.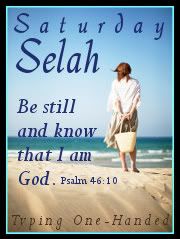 Is prayer your steering wheel or your spare tire? ~Corrie Ten Boom

In 1983, two great women of faith, Catherine Marshall and Corrie Ten Boom, went to be with the Lord. If you read any of their writings, you very quickly will see that these women spent hours on their knees in prayer. It was part of who they were. Very rarely today do we encounter such women in whom prayer is a second language.
Corrie Ten Boom commented on the tragedy of the fact that most Christians have lost or perhaps never developed a consistent prayer life:
"When a Christian shuns fellowship with other Christians, the devil smiles. When he stops studying the Bible, the devil laughs. When he stops praying, the devil shouts for joy."
Prayer is a direct line into the power God has made available to us through His Son Jesus Christ and the Holy Spirit. Our lives can never be as effective or successful if we don't tap into what He offers us for free. How do we expect to be all He has planned for us to be if we don't spend time discussing it with Him?
Karen Burton Mains brought the question home:
"Frankly, there are very few candidates from our generation of women – those of us who have lavished hours in front of the television set, in the shopping plazas, in self-indulgence, in not developing a disciplined spiritual life."
Ouch! How often am I guilty of letting these things distract me?
Karen goes on:
"…unless we begin to grow up spiritually. Unless we become convinced that we are the generation of Christian adults ultimately responsible for the spiritual condition of our nation. We must understand that there are increasingly few in that generation ahead of us left to pray over this world. We are coming of age. But are we coming to terms with our lack of spiritual depth and ability?"

"It is we who must learn the meaning of forbearing.

It is we who must develop the disciplines of spiritual perseverance, not shrinking back from growth but doing the will of God, having faith and keeping our souls.

It is we who must become women of faith and prayer and obedience and service.

It is we who must set a spiritual standard for the next generation.

It is time for us all to grow up."
Catherine Marshall put the idea of our neglect of our spiritual responsibility more succinctly:
"One can believe in the efficacy of prayer and never do any praying."
Efficacy is a single word that describes the power to produce an effect. Do we believe prayer is effective? Can it make a difference in our lives? Our families? Our culture? Our country? The answer to all of these is a loud and resounding YES!
And what does God's word say to this:
"…Take up the shield of faith, with which you can extinguish all the flaming arrows of the evil one. Take the helmet of salvation and the sword of the Spirit, which is the word of God. And pray in the Spirit on all occasions with all kinds of prayers and requests. With this in mind, be alert and always keep on praying for all the saints." Ephesians 6:16-18

[NIV]
So will I be the one who steps into those shoes vacated by Corrie Ten Boom and Catherine Marshall? Will I be one who makes prayer my second language?
Father, Guide me to my knees. Teach me your language of prayer. Help me stand in the gap for others. Allow me to learn to bring everything before You. Amen.