"Dear Lord,
I do not ask that Thou shouldst give me
some high work of thine,
some noble calling
or some wondrous task.

Give me a little hand to hold in mine."
~
Anonymous
During my high school senior year. the Equal Rights Amendment was once again up for a vote. The militantly feminist messages pushed by several single female teachers were confusing and just some of the messages being shoved at young women throughout my growing up years.
Shortly after I graduated, I started dating my dear husband. My mind was co
nsumed by young love and the excitement of preparing for a wedding. We lived in newly wedded bliss for two years. I worked just enough to keep me from getting bored, as we lived in a tiny apartment in the Awase area of Okinawa and I was away from the American community on the military bases. When we arrived at my husband's next duty station in Plattsburgh, NY, we were expecting our first child. My life was consumed with preparations for our new arrival. Shortly after our first daughter was born we moved to the little house next door to my husband's parents in West Virginia.
To help with a few bills while my husband built a car rebuilding business, I used my dental assistant training and got a part-time job. It was a tough summer, missing my daughter, especially at feeding times. Thank the Lord for milk pumps! By the fall, I had enough and my husband's business was covering our small expenses, thanks to the generosity of his parents letting us live rent-free. Life revolved around the joys of our growing daughter and getting to see each other any time we wanted.
The business
grew difficult with extremely hours long needed to succeed, I was beginning to feel the strain of living so close to in-laws, and we missed the military life we had given up. We chose to return to the Air Force and moved away. We enjoyed our tiny family and were blessed with the surprise of another little one on the way when our daughter was 13 months old. With the arrival of our second daughter, the easy-to-keep-up-with household required more effort to stay organized. Three years, the birth of our son, and two moves later, I was barely keeping up with housework and budgeting was just non-existent. The feeling I was missing out on something lodged itself in the back of my mind. I went back to work in a job I could work while the kids were asleep at night.
Gradually I lost the joy I took in my children. No longer were accidents and messes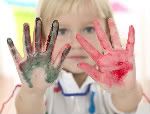 cute. When I was given an opportunity to go back to school, I jumped at it and spent two years trying to juggle the whole thing, only really succeeding in academics. Then we moved again. By the time we had been married 10 years, we had moved seven times.
One of the ways I got familiar with an area when we moved was to pile the kids in the van and drive around exploring. During one of those times, I discovered a wonderful radio station that had a program from
Proverbs 31 Ministries
. I couldn't tune it in at home, so I planned our trips around the radio schedule for
Focus on the Family
broadcasts and Proverbs 31 broadcasts. God gave me a wake-up call and pulled my heart back to my home. That eventually led me to homeschool my children and it seemed life was back on track in my mind. Of course we moved again...and because of several circumstances, we put our children back in public school. I again found work outside our home and for five out of the next six years my children attended public school (household moves 8 through 11).
We put our son in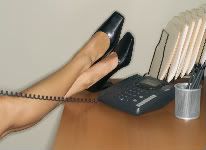 a private Christian school, which we felt was necessary for him and I used this as an excuse to take a very busy job in support of the 2002 Winter Olympics. I had a lot of responsibility and the job was prestigious. I got to hobnob with people from many countries. I justified the inevitable neglect of my family by reminding myself that I was working for a Christian organization. At one point I was working 18 hours a day, 7 days a week.
When my husband retired from the Air Force that June, we moved back to his hometown, into the house his parents had lived in. I gradually again saw what a blessing being home with my children was. But, alas I reaped what I had sowed...my children were very busy in all kinds of things. Our oldest daughter moved out because she felt we were too restrictive and it took God's intervention to help our family heal from the years I had neglected to make them a priority in my life.
Our oldest moved back home and 8 months later gave birth to our grandson. Alt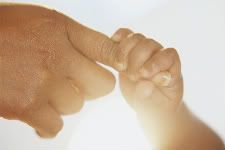 hough the circumstances were not ideal, God blessed our daughter with wisdom and she is a wonderful mother trying to do her best with her son. We are fully supportive of her and I get the opportunity to do my best for my whole family now. I have gotten to be a big part of our grandson's life and will be starting preschool lessons with him this fall. My heart always wanted to be home...my stubborn will just wouldn't listen. God was right alongside me the whole time and He guided me to an awareness of who He created me to be. I've been able to shake off all the confusing messages I received growing up about what is important in a woman's life.
I get a second cha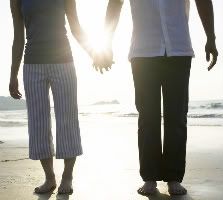 nce to help in the life of a young one (and hopefully many more young ones as my children find Godly mates and start giving us more grandchildren). I also have the privilege of being a mentor to our grown daughters and an example of a woman seeking God's heart for our son. P.S., a great plus of being a grandparent is that I get to teach and love and spoil and send the darling home. And every step of growth has also strengthened my relationship with my husband. Because God is faithful, I am truly blessed!
"The wise wo
man builds her house, but with her own hands the foolis
h one tears hers down."
~Proverbs 14:1
(I've been both...its much more fulfilling to be wise!!! If you like stories about lessons learned, read my
August 25th
post :)

Nina is hosting In Other Words at her site Mama's Little Treasures. If you want to participate, write a blog about the quote in the box above on your site then click on the link to Nina's blog and leave your URL in the Mr. Linky box. You will also find links for the other participants' blogs.