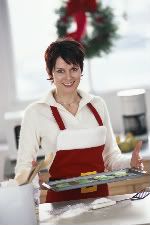 I am always amazed to see those "countdown to Christmas" signs, the ones that tell us how many shopping days we have left till Christmas, show up in the middle of summer. But, even though I see them every time I shop from July through December, I am always surprised on December 18th to find I have only a week left to get just the right gift for everyone on my list.

Amazingly enough, I am a planner and a list maker-but I am also a procrastinator. Sometimes my procrastination is for legitimate reasons: someone in the house has been sick, or pay day is just a few more days away.

Unfortunately, for the majority of the time, it's as if I have a shut-off valve in my brain triggered by the proximity of important events. Imagine my surprise each and every time a family member not living in my house has a birthday or anniversary. I may have had the foresight to remind others of the upcoming event the week before-but suddenly, as my head is about to hit the pillow the night of a special day, I get a sickening jolt in the stomach that says, "OH NO! I forgot AGAIN!!!"

When my sisters lived in different time zones we joked away my absent-mindedness by exaggerating the amount of the time difference between us. Sometimes they thought I lived on a different planet when I called to wish them "Happy Birthday" a week after the actual date.

If this was a problem I developed as I have aged I would just chalk it up to O.L.D. Syndrome, our family name for forgetfulness and achy joints. But, once upon a time I was an organized and considerate woman. My Christmas card list grew and grew each year. I kept a folder of birthday and anniversary cards with everyone's important dates listed clearly.

So what happened? I could blame it on O.L.D. or our fast-food, countdown-to-Christmas culture. But the real disease is B.U.S.Y. Syndrome. And I have no one to blame but myself.

I read a quote from Billy Graham that I think is the cure for B.U.S.Y. Syndrome:
"Jesus gives us the ultimate rest, the confidence we need to escape the frustration and chaos of the world around us. Rest in Him..." from Unto the Hills, 1998 Dallas Word Press.

In order to apply this cure I am learning to "rest in Him" by using the following steps.
Starting my day with prayer. Just a few minutes alone with God is an amazingly effective way to slow down a busy day and make true concentration possible."I have set the LORD always before me; because He is at my right hand I shall not be moved." Psalm 16:8.

Studying my Bible every day. While prayer is my time to talk to God, this is my time to listen to Him. "Your words have upheld him (or her) who was stumbling and You have strengthened the feeble knees (or mind)." Job 4:4 .

Paying attention to the moments as they are given to me. Moments come by but once, and then depending on how they are used, are treasured or lost forever. "Let us not grow weary while doing good, for in due season we shall reap if we do not lose heart." Galatians 6:9
I don't know if I'll get a card to everyone on time this next year, but I do know that "He who has begun a good work in you will complete it until the day of Jesus Christ." Philippians 1:6. And "People with time for others are happy all around the clock." -Barbara Johnson.

In other words, God is still working on me and if I practice obedience to Him, He will help me remember what is important and set aside all the mundane, unimportant things so that I can focus on what is truly important and worthwhile-my relationship to Him and the people He places in my life.

First printed December 2005 in The Freedom Reader, a publication of Spring Valley Freedom Bapist Church, Huntington, WV.